Course details
【Citrus Buri Shabu course】 Up to 150 minutes with all you can drink! (All 8 items) 4000 yen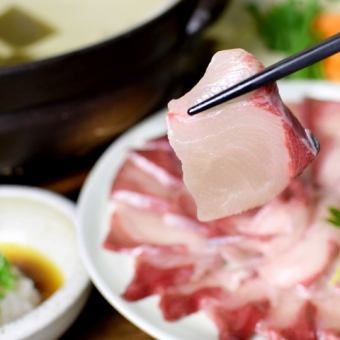 4000 yen
【All you can drink】 150 minutes from Sunday to Thursday! Fri, Sat, 120 minutes on the day before holiday!
All-you-can-drink available

LO 30 minutes ago * ★ mark is 100 sake brewing! All you can drink as one item + 1 yen + 500 yen added OK
Reservation deadline

Visit of hope the day before until 23:00
Available days for reservation

Monday - Sunday - Public holidays - Holidays
Finally, in Ehime a course to enjoy luxurious pleasures of luxuries is newly introduced! Course where you can also enjoy specialties from Hanasaka or Taiya! Recommended for various banquets, friends and drinking groups, group rental.
Course menu
Today's withdrawal
Skipjack tuna
Colorful radish salad salad
Citrus prawn shabu-nabe pot (medicinal green onions, radish roe, maple and ponzu)
Deep-fried home-made chicken
Gem of the day (baked)
Freshly cooked dish (delicious green onions, eggs, ponzu)
Petit desert
All-you-can-drink menu
· Japanese sake · Sake alcohol 100 selection ★
· · · 【Atsukan · Cold Sake) / ★ 【Yamaguchi / Festival Gagaki】 ★ 【Ehime / Umi Bijin】 ★ 【Hokkaido / Manyama】 ★ 【Fukushima / Tenmei flying Experience】 ★ 【Ishikawa / Ginolu】 ★ 【Shizuoka / Kikunagi】 ★ 【Aomori / Tanju】 ★ 【Niigata / Takachijyo Echigo Tide Tiger】
· Japanese sake · Sake alcohol 100 selection ★
· ★ 【Nagano / Miyakoko Tamkyu】 ★ 【Toyama / Haneya】 ★ 【Akita / Beauty of Iku Shiraizuki】 ★ 【Mie / Tianyurin】 ★ 【Saga / Nanada】 ★ 【Kochi / Kenju】 ★
· Japanese sake · Sake alcohol 100 selection ★
· ★ 【Hiroshima / Treasures】 ★ 【Kyoto / Water Basho】 ★ 【Shimane / Li Bo ★】 ★ 【Miyagi / Abe Inguy】 ★ 【Gifu / Three thousand Sheng】 ★ 【Iwate / Mon Ring Red War】 ★ 【Okayama / Bamboo Lin】 ★ 【Hyogo / Oku Harima】 ★ 【Fukuoka / Bra】 ★ 【Nara / Spring Deer】 We prepare 100 daily changes.
·draft beer
· Live / Large / Pitcher ※ Pitcher at last order can not be accepted.
Shochu
· Wheat / potato / chestnut / rice / awamori
·Whisky
· Rock / Water Drop / High Ball / Ginger High Ball / Cork High Ball
· Sake High
· Lemon / lime / Calpis / oolong / green tea / white pine / yuzumitsu
Cocktail fruit wine
· Screwdriver / Moscommeureur / Fazy Niebre / Cassis Oolong / Cassis Orange / Cassis Grapefruit / Cassis Soda / Anno-sake (Anzu) / Big Peak Sake / Rinchu (Ringo) / Hakomo Sake / Plum wine / Grapefruit Sake
·Soft drink
· Ginger ale / Coca cola / oolong tea / melon soda / raw tea / orange juice / mango juice / apple juice / pineapple juice / calpis / grapefruit juice
2018/10/15 update